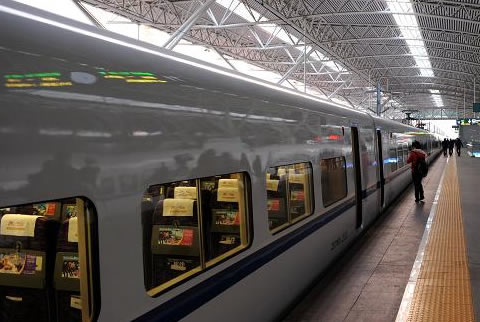 The railway station of Nanjing is located in No.111, Longpan Rd. Xuanwu district of Nanjing city, which is a railway hub for China, is a top grade rail way station, one of the ten biggest train stations, Nanjing railway station is starting to construct since the year of 1908( year of Guangxu 34 during Qing dynasty), it is located in the old Xiaguan area, in Sept. Of 1968 it moved to present address, it was in the same time as the Nanjing Yangtze river bridge is built and start for use, the original name of the station is called West Nanjing station.
Nanjing railway station in front it facing Xuanwu lake, and in rear has a mountain called Xiaohongshan, good at geographical location, beautiful surroundings, it occupied around 1.2 millions of areas of lands, it set with 16 railways and 8 plate forms, the length has two types as 500 meters and 450 meters, have a North and a south station halls, the passing by railway lines has Jinghu railway, Ninghe railway, Ningqi railway and Ningtong railway and etc.
Travellers can take the line one1 metro to reach Nanjing railway station at arrival area, Nanjing railway station is next to the Nanjing Bus station(roughly around 50 meters away), travellers can take 10 minutes reach there by walk, it realized normal train, bullet train and high speed train, also long distance bus and city bus, taxi and metro. Also connected by shuttle bus from here to the Lukou airport.