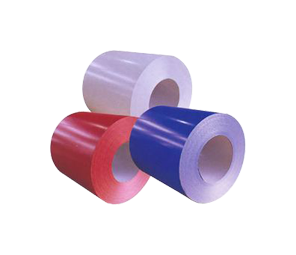 ·Product introduction
When we use cold-rolled strip steel and galvanized steel coil (galvanized and hot galvanized) as the base board to process with a continuous unit, adopt surface preparation (degreasing and heat treatment), and apply one or more layers of liquid paint with roller coating method, finally we execute baking and cooling, then the obtained sheet is coated steel. Since the coating may have a variety of colors, the coated steel is customarily called the color coated steel.
·Quality standard
National Standard GB / T12754-2006 Enterprise standard Q / 320206HXIR02-2012
·Process flow
Hot galvanized plate (cold-rolled plate, hot-dipped gavalume plate, galvanized sheet) - degreasing - chemical coating - drying - primer - solid melting - cooling - top coat - solid melting - cooling - finished product
·Application area
It is applicable in construction, shipbuilding, vehicle manufacturing, furniture industry and electrical industry.
·Stock quotation
Price of color coated coil:

Specification (base board thickness)

Width/unit price including tax (yuan/ton)

1000mm

0.23*1000*C

5280

0.25*1000*C

5080

0.27*1000*C

4980

0.286*1000*C

4930

0.30*1000*C

4830

0.32*1000*C

4730

0.35*1000*C

4630

0.37*1000*C

4580

0.40*1000*C

4530

0.42*1000*C

4480

0.45*1000*C

4430

0.47*1000*C

4380

0.50*1000*C

4330

0.52*1000*C

4330

0.55*1000*C

4330

0.60*1000*C

4280

0.70*1000*C

4280

Remark: The prices of high strength G550 are 200 yuan / ton higher than that of the above price.

1.Description:

1) The paint standard is the general polyester PPGI;

2) The coating structure is 2/1 (two layers of upper coating and one layer of lower coating);

3) Mass of Zn coat

4) The above price is the representative price of the steel with a width of 1000 and colors of navy or lime. As for steel plates with special color or special width, the prices are negotiable;

5) Packing: general packing;

6)Hoisting cost: Shipping and container is 30 yuan / ton in all cases; The reinforcement is at additional costs;

7)Purposes: architectural plate, it is negotiable in case of special purpose;

8) The price of class B product is negotiable, quality objection is not to be mentioned.
Product related video
·Product introduction·Product introduction